As the many memes your friends will share in the next few weeks will remind you, winter is coming. Well, it's really already here. While some people will shy away and use the blistering winds and frigid air as an excuse to avoid going to the gym or staying active, winter provides you with the opportunity to be one of the strong, brave types who stay active outdoors throughout the winter.
Just make sure that you're prepared for whatever activity you choose. If you're snowshoeing in the mountains, make sure you're in a car that can handle winter roads. Prepare yourself for your outdoor winter training sessions with this list of fitness tips and ideas.
1. Choose Weather Appropriate Workout Gear
Start off your winter training by making sure you're outfitted for success. Your wardrobe should include a hat, headband, running gloves, running jackets, tights, long-sleeve shirts, trail shoes, and socks. Contrary to how you'd normally dress in the winter, you don't want too many layers.
If anything, because you're working out, you're more likely to overdress and risk overheating. Be cognizant of dressing for your surroundings. If you're running early in the morning, during sunset, along with a roadway, or in the woods, wear a reflective vest so you're visible to others.
2. Begin Your Warmup Indoors
Just because you're training outside doesn't mean you can't warm up inside. Put aside the first ten minutes of your workout so you can stretch properly. This will keep you limber and avoid injury if you happen to fall.
Depending on your weight, a ten-minute warm-up prior to your workout or run can help you burn anywhere from 50 to 76 calories. There's a number of ways to warm-up and work a variety of muscle groups, including foam rolling, dynamic movements, light cardio, yoga, or bodyweight moves. Make sure you warm-up the muscle group you're planning on working out that day.
3. Take Your Run Outside
The most essential of aerobic workouts, running, is best done outdoors even in the winter. Running works your body's quads, hip flexors, hamstrings, glutes, and calf muscles.
A vigorous hour-long run where you're constantly pushing yourself might have you burn anywhere from 400 to 800 calories, depending on your weight and the terrain outside.
Since you'll be outdoors and have a wider variety of variables affecting your performance, it's a given that you'll burn more calories than someone in the controlled setting of an indoors gym or on a treadmill.
4. TRX Training Outdoors
If you're not familiar with it, TRX is total resistance exercises which employ suspension equipment so you can use your body weight to build strength, increase flexibility, and improve core stability, all at the same time.
TRX workouts require a fairly strong amount of intensity, ranging from preventing you from keeping up a conversation with someone to leaving you completely out of breath.
Best of all, the TRX training equipment can be anchored to any sturdy, vertical location, like a tree branch or playground equipment, meaning you can do TRX outdoors in the winter.
TRX installation instructions – How capture TRX?

Make sure you have the right a safe TRX accessories before you start your workout: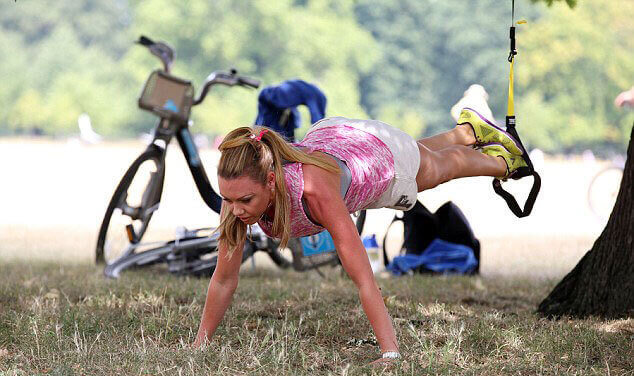 How to anchor TRX properly? TRX bands can be captured anywhere. Read more to find out how can be TRX anchored correctly and safely.
During a single training session, you might do a dozen different exercises, include push-ups, inverted rows, chest press, tricep extensions, bicep curls, lunges, squats, hamstring curls, and glute bridges.
This wide variety means you'll target muscle groups ranging from the upper body's core and biceps to your lower body's calves, glutes, and calves. The amount of calories you'll burn during an hour-long TRX session depends on the size of your body and the effort you exert.
Someone who is 150 lbs might burn 300 calories in the same session that a 220 lbs person might burn 430.
Your calorie burn rate will also depend on the style of the session; an aerobic-heavy session might burn more than an anaerobic-styled session.
Where To Buy TRX Suspension Trainer
TRX is available at Amazon (older a cheaper models) or at official TRX Training website (the latests updated models). You can buy any original (genuine) TRX Suspension Trainer ONLY online!
BESTSELLER NO.1
This system provides everything you need to build strength, increase your flexibility, spot-train, and fit in a comprehensive, healthy workout anytime you want, anywhere you want.
BESTSELLER NO.1
This system provides everything you need to build strength, increase your flexibility, spot-train, and fit in a comprehensive, healthy workout anytime you want, anywhere you want.
Which TRX Suspension Trainer Is The Best and Which To Buy?
It is difficult to differentiate and choose from the different TRX suspension trainers available. This comparison guide can help you determine which is the right one for you.
5. Recreational Winter Sports
Winter doesn't leave many outdoor team sports options for you to participate in, but that doesn't mean you should put your skates up. Use the time to pick up a new sport, like ice skating, snowboarding, or hockey.
Recreational sports can also include casual activities like sledding down a neighborhood hill or spending snow days outside building snowmen and having snowball fights with your kids.
If you're looking for the winter sport that can burn the most calories for you within an hour, try skiing. This aerobic activity requires plenty of oxygen consumption and complex physical movements so you can expect an hour-long bout of skiing to burn anywhere between 800 and 1,500 calories.
So fill your car or truck with your ski gear, bring some friends, and enjoy the slopes. They're also great workouts for working out your core, hamstrings, quads, glutes, leg abductors, and rear deltoids.
6. Cool Down After Your Workout
Just as you need to warm-up for a good workout, you should also cool down.
A cool down helps transition your body from a high-heart-rate to a steady resting rate.
Not only will you keep burning calories during your cooldown, but you'll also help prevent future injury by returning your muscles to their optimal tension relationship.
We hope this has given you some ideas to get outside this winter. What other winter activities have you tried to stay active?