How to hook up your TRX Suspension Trainer?
Read this post to learn the proper set up and use of the original TRX Suspension Trainer. TRX Straps can be captured anywhere.
TRX Suspension Trainer is portable and provides greater performance and functionality than large exercise machines costing thousands of dollars.
TRX's compact and lightweight design allows you to set it up and use it anywhere you want.
How to capture TRX:
1. TRX Xmount
✅ simple and effective way how to anchor your TRX
✅ probably the best way to mount a TRX to the wall
✅ it can be easily anchored to circumferential walls, ceiling or ceiling tiles
✅ visually very robust and attractive element of the diameter of 12 cm made from high-quality steel
✅ ensures maximum safety during your TRX workout
✅ supports all TRX trainers
TRX X-mount ceiling installation
The carabiner of the TRX  (can be Suspension Trainer or Rip Trainer) shouldn't be clipped directly to Xmount. It is recommended to use TRX Anchor Carabiner which is already included in the TRX package.
TRX X-Mount
Create a Durable and Discrete Mount Almost anywhere with This Anchor Point
Durable steel X-Mount
Two wood stud lag bolts (3/8″ x 3″)
Two washers
Installation instructions
From the safety point of view, TRX® Xmount (X-curtain TRX®) is recommended by Fitness Anywhere and is subjected to security guarantee.
TRX Xmount installation instructions
Anchor your TRX securely with the TRX X-Mount.
Follow the important safety guidelines:



TRX Xmount installation instructions [PDF]
TRX X-mount changes every room into a small fitness center.
2. TRX Door Anchor
✅ very practical suspension for anchoring TRX anywhere where there's a door
✅ suspension does not damage the surface or door painting
✅ you can exercise virtually anywhere you like
TRX at home installation:  This nylon door suspension is a very practical assistant during your TRX workout. Suspension shall be placed between the door frame and the door. If the door is closed, it is 100% safe anchorage of training tools.
For optimal safety hang up a sign with the inscription "Workout in Progress!" on the other side of the door 🙂
3. TRX Anchor Carabiner
TRX Suspension Anchor allows you to hang your straps off bars, poles, hooks- pretty much anything you find that will take your weight. Clip on your straps and you're ready to workout.
The Suspension Anchor enables a full range of motion, just wrap it around an overhead anchor point and clip any Suspension Trainer to the bottom loop to start training.
The anchor is adjustable and accommodates anchor heights of 7-9 feet. It can be used with or without TRX Xtender.
TRX Anchor Carabiner
Perfect for Training Anywhere
Allows you to hook up your Suspension Trainer anywhere you train, whether indoors or outside.
The Suspension Anchor is adjustable and accommodates anchor heights of 7-9 feet.
Simply hang your anchor, clip on your straps and you're ready to workout.
4. TRX® Xtender
✅ TRX Xtender = Extender
✅ TRX Xtender measures approximately 94 cm
✅ for anchoring TRX for longer distances
TRX X-tender
The TRX Xtender allows you to safely attach the TRX Suspension Trainer to high anchor points (9ft. or more off the ground)
Simply loop around or attach the Xtender to your elevated anchor point.
Great for high ceilings, basketball hoops, large trees and more.
TRX Xtender instructions: If necessary, it is possible to easily link two or more X-tenders together. You can use TRX Xtender for anchorage points, which are more than 25 cm in circumference.
How to anchor TRX properly
You have one of TRX products at home, you have prepared a support structure where to anchor TRX, but you are not sure whether you have your TRX system anchored correctly and safely?
Now, let's have a look how to anchor TRX properly, so your workout will be safe and your TRX system anchored in a stable position.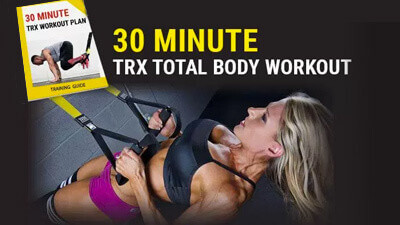 Is it possible to work all the muscles in your body in 30 minutes? Try a training plan, which will help you strengthen your whole body. And moreover, you will enjoy it.
VIDEO: TRX® Suspension Trainer™ Set Up & User Tips
TRX Training Safety Guidelines
✅ Before each use of TRX Suspension Trainer, always check your TRX.
✅ Never use TRX gear if it seems to be damaged. Do not capture your TRX Trainer to an anchor point with sharp edges.
✅  Do not "saw" your TRX in a pulley-like fashion. Sawing will cause excessive wear of the TRX's stabilizing loop. If the yellow colored nylon begins to show through the black stabilization loop, replace your TRX.
Make sure you have the right TRX accessories before heading outside to train: