As laboring as pregnancies can be, it doesn't mean that you can simply sit back and relax without any significant consequences. Exercising regularly can be good for your pregnancy. It will give you more energy, an improved self-image, as well as healthier heart health.
Additionally, maintaining your body during pregnancy can help with lower back pain and other pregnancy concerns. Believe it or not, it may even be able to shorten your labor time, with luck on your side.
However, before starting any workout routines, always check with your primary doctor to make sure the activities you are planning to do are safe for your pregnancy.
If everything's a go, you should try to aim for at least 30 minutes of exercise four days a week. Below, are five workout ideas you can start with today!
1. At Home Programs
When you want to work out, there is no need even to leave your home. There are tons of exercise programs that pregnant women can do from the comfort of their home. Although it may sound strange, you should try weight training.
It helps you stay toned and in shape throughout pregnancy and afterward. There is no need to use heavy weights or buy new equipment. Water bottles are perfect substitutes for dumbbells.
Avoid lying on your back when performing any exercise. For those not as used to working out, yoga is the perfect alternative.
If you're looking for an exercise routine that can help you maintain your flexibility and reduce joint pain, prenatal yoga is for you. Additionally, it also helps improve circulation and relax your muscle system to offer you more control of your body while in labor.
Throughout your pregnancy, don't feel embarrassed to avoid yoga positions that leave you unbalanced. Especially in your second trimester, avoid poses that require you to lie on your back, since it can place too much weight on your major veins, resulting in reduced blood flow to your heart.
2. TRX Low Back Stretch
Due to the increasing weight in your stomach, your hamstrings and lower back muscles can tighten up, causing you discomfort and lower back pain. However, proper exercise can help relieve your pain and improve the comfort of your pregnancy.
Keep the Suspension Trainer at least at mid length, with the stand facing the anchor point, and walk backward, so your arms are directly in front of you.
Keep a wide stance, while pressing your hips back and folding your body, leaning from the anchor point.
Repeat for as many times as you can, without feeling too out of breath.
Where To Buy TRX Suspension Trainer
TRX is available on Amazon — you can buy any original (genuine) TRX Suspension Trainer ONLY online!
BESTSELLER NO.1
This system provides everything you need to build strength, increase your flexibility, spot-train, and fit in a comprehensive, healthy workout anytime you want, anywhere you want.
BESTSELLER NO.2
Includes All-in-One Suspension Trainer, Indoor & Outdoor Anchors, XMount Wall Anchor, 4 Exercise Bands & Shaker Bottle
BESTSELLER NO.1
This system provides everything you need to build strength, increase your flexibility, spot-train, and fit in a comprehensive, healthy workout anytime you want, anywhere you want.
BESTSELLER NO.2
Includes All-in-One Suspension Trainer, Indoor & Outdoor Anchors, XMount Wall Anchor, 4 Exercise Bands & Shaker Bottle
Which TRX Suspension Trainer Is The Best and Which To Buy?
It is difficult to differentiate and choose from the different TRX suspension trainers available. This comparison guide can help you determine which is the right one for you.
3. Swimming
Swimming is one of the best forms of exercise you can do while pregnant since there's limited risk of falling flat on your stomach and injuring your unborn child.
Not to mention, regularly exercising in water can give you an improved range of motion without putting unnecessary pressure on your joints. Plus, you can still swim and do water aerobics even in your ninth month of pregnancy.
While exercising in water, pick a stroke that doesn't feel uncomfortable or cause pain to your back, neck, or shoulder muscles. One of the best water-based exercises is the breaststroke since you don't need to rotate your belly or torso.
When entering the pool, avoid jumping or diving, since it can cause damage to your stomach, especially your belly. It's also a good choice to avoid overly warm pools, hot tubs, and saunas.
4. TRX Low Row
Another TRX exercise that is suitable for pregnant women is the TRX low row. When pregnant, the upper back muscles can begin to get weaker which can contribute to poor posture. To perform this exercise, you will first need to shorten your extension trainer.
Then, stand facing the anchor point. Choose a comfortable angle and place your hands on your ribcage. The steeper the angle you pick, the more difficult the exercise will be. Make sure you are engaging your shoulder blades.
While staying in a perfect plank, slowly lower yourself down. Then, while keeping your shoulder back and down, hoist yourself back to your starting position.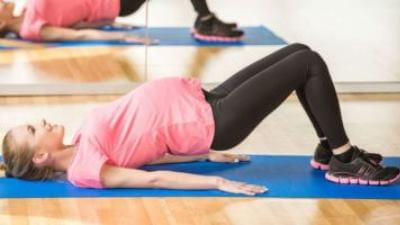 Exercise plays a very important role in getting back in shape. Although the last thing you want to hear after giving birth is engaging in strenuous workouts, guided exercises are key in bouncing back to the beautiful shape you had.
5. Walking
Walking can be a great exercise for pregnant women of all fitness levels. Even if you have never worked out before, taking a quick walk can be a great place to begin.
Walking provides a cardio workout without putting too much impact on your ankles and knees. Plus, no matter what trimester you are in, you can always exercise by walking.
When your stomach gets larger, you can begin to lose your sense of balance and become less coordinated. When you go for your walk, make sure you are walking on smooth surfaces. Beware of potholes and other obstacles.
Also, make sure you are wearing supportive sneakers. Consider getting sneakers that are half a size larger than your regular shoe size.
This is because your feet can start to swell later in your pregnancy. For pregnant women, exercising can help to maintain a healthy lifestyle and a sense of normalcy.
These five exercises are a great place to begin for pregnant women.
Plus, doing this can help you to get back into shape faster after giving birth. As mentioned before, you should always speak with your doctor before beginning a new exercise routine.
About the Author: Mike Jones is a fitness contributor to www.defendyourhealthcare.us. He started going to the gym over 10 years ago and he works out 3 times a week. Mike encourages all age groups to have a healthy lifestyle. For pregnant women, this should be a priority. For more of his tips, check him on Twitter @mike_jones35.