Suspension training gives participants an edge over pure protocol conventional strength training.
This exercise builds true functional strength training and improves flexibility, balance and core stability all at once, which is required on the playing fields of sport and in life.
TRX Suspension Training is beneficial and relevant not only for elite professionals; such exercise is important for anyone who seeks a method to safely and rapidly improve his or her fitness.
Personal trainers
have soon embraced the suspension training and TRX group courses have become a great success in many countries throughout the world.
Celebrity fitness trainers use TRX Suspension Training regularly with their clients and they achieve amazing results.

Wellness centres enjoy incorporating TRX in their programs for senior citizens because this type of exercise enables seniors to move freely without fear of falling.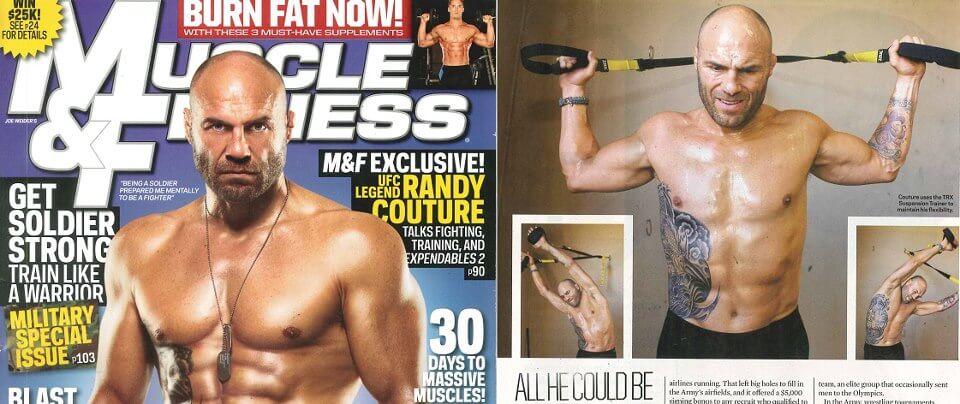 Randy Couture, a UFC legend and a film star of THE EXPENDABLES • photo: www.facebook.com
Is TRX Training effective?
Physical therapists are using
TRX exercises
to rehabilitate patients in hospital wellness centres, sports medicine clinics and chiropractic offices.
Clinical studies are being carried out at the moment to generate best practice to be used in treating various common orthopaedic and sports injuries.
What fundamentally distinguishes suspension training exercise as a modern exercise genre, is the systematic collection of best practices, both old and new, to be produced, modified and shaped into a coherent system with a single built exercise methodology.
Its uniqueness also lies in the invention of TRX Suspension Training, the first exercise equipment in the world for performance workout that allows a wide variety of fitness exercises for the whole body.
TRX, imaginative patented elements, improved over the years, are optimal for the human body.
TRX allows for a wide range of suspension techniques that can be performed anywhere, anytime and by anyone.
In its simplest form, the suspension training covers a wide range of body movements, teaching guidelines and program policies, of which Fitness Anywhere created a system.
Suspension training movements are distinguished from traditional exercises in that either the user's hands or feet are generally supported by a single anchor point while the opposite end of the body is in contact with the ground.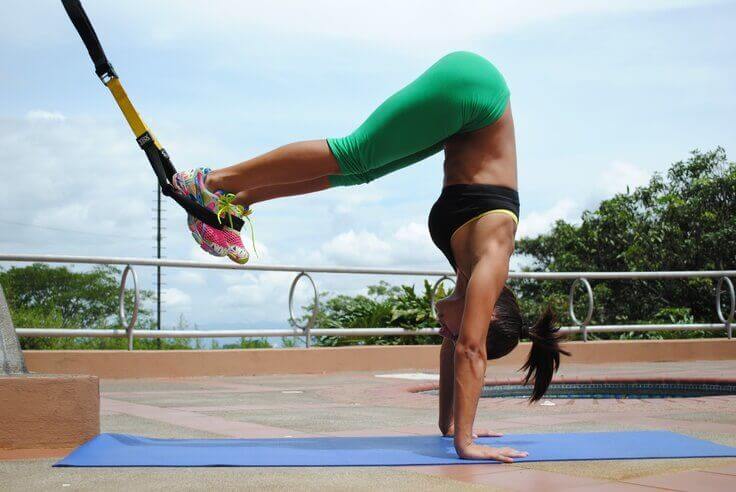 One of the key TRX's benefits is that you are able to complete endless number of exercises with a single training tool. TRX Suspension Trainer delivers a total-body workout.
0 comments
How does TRX Training work?

illustration photo • photo: www.deseretnews.com
Using TRX, desired percentage of the body weight is loaded in a certain target point and set in motion during exercise.
A single anchor point provides an ideal combination of support and mobility while working out and training endurance, coordination, flexibility, strength and stability of the body all at once using a variety of steady-state training.
The TRX Suspension trainer employs gravity and movement to generate neuromuscular responses to changes in body position and mechanical advantage.
If the body is in straps anchored in a single point over its head, its center of gravity seeks the lowest point on the ground. For example, when hanging on horizontal bar with both hands, our center of gravity is pushing us towards the floor.
Once you hang just with one of your hands, your body will tilt and rotate so that your centre of gravity again stabilizes in the lowest midpoint.
Movements using the TRX integrate strength and balance into a single dynamic format, which imposes a heavy burden on the nervous system, and maximizes the benefits of body weight exercise for faster results.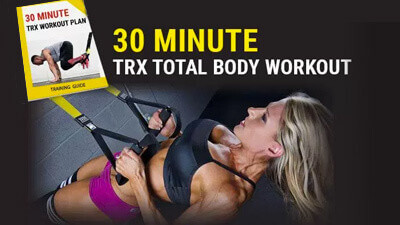 Is it possible to work all the muscles in your body in 30 minutes? Try a training plan, which will help you strengthen your whole body. And moreover, you will enjoy it.
0 comments