Fitness has become a way of life. More people have realized the importance of fitness training programs. If you are someone who visits the gym often, you might be aware of the fact that personal training sessions cost a lot.
If you are going to commit to a renowned professional trainer, then it's going to cost you a fortune. The best way to get into shape on a budget is to go for group training sessions.
Group training sessions are gaining popularity
Group training sessions are gaining popularity because of its affordability and overall experience which they provide. You can utilize the expertise of a professional trainer at a lower investment. Other than this, the fun and motivation you experience in a group training session are very high compared to a one-on-one training session.
Many different types of group training sessions have been introduced. Each of them is different and very engaging. I am here to tell you about the different types of group training sessions available.
Types of Group Training Sessions
Broadly classified there are two types of group training sessions available in the fitness industry. Based on the intensity of the workout, there are two different types.
High Impact Sessions
The high impact group workout sessions are mostly for people who are regular gym-goers.
1. Cardio
There is nothing more intense and impactful as a cardio workout. Group workouts mostly involve an intermediate high-intensity cardio workout session that is devoted to burn extra calories and improve the level of your fitness. Group cycling, Group rowing are all popular examples of cardio workouts. There are alot of physical and psychological benefits of cycling.
2. Boot Camp
Boot camps are gaining a lot of popularity these days as you get out of the gym to exercise and this is what most of us are looking forward to.
There are many fun army-style boot camp workouts where you will have a series of missions to complete as a group. Monopoly group workouts are yet another example.
3. Strength and Cardio
One of the most successful high impact group workouts is a combination of strength and cardio. Workouts like 'Don't skip a beat' involve 8 different exercises, where you will be lifting weights along with jumping between the ropes.
Low Impact Sessions
If you are someone who is planning to start with group workout sessions, the low impact ones are a great choice.
1. Walkers Club
The easiest beginner's workout is walking. Enroll yourself in a walkers club where you can burn a few calories along with chit chat with your other walker friends. You can start with slow-pace walking and in time work yourself to a brisk steadfast walk.
2. Kayaking/Hiking
Kayaking is the best workout which can work your core and your arms. There is no doubt that kayaking and hiking are fun, with a group they become all the more interesting and engaging.
3. Swimming Competitions
Swimming has a boatload of benefits. It can strengthen your muscles and also improves your lung capacity. Group swimming competitions are a great way to get into shape.
Group Personal Training
Confused with the term, 'Group Personal Training'?
In group training, every member of the group does the same exercise as the instructor, whereas in a group personal training each of the members does the exercise as per their customized level of fitness and ability.
Benefits of Group Training
There are many benefits of group training.
Budget
As mentioned earlier the first and foremost advantage of group training is affordability. One-on-one personal training is very costly. In group training sessions, the same instructor trains you at a much lesser cost.
Fun
Since you are working out as a group, the amount of fun and excitement is double. The brilliant rapport you build with others reflects on your workout, and it becomes more of an experience.
Support
You have the support of your trainer as well your fellow team members in group training sessions. You get a chance to motivate each other and work out much better than before.
Popular Group Training Sessions
CrossFit
There is no doubt that crossfit is one of the most challenging and competitive workouts. In group crossfit sessions, a team of 4 or more are assigned to a combination of various crossfit movements such as push ups, rope climbs, and burpees.
The team with the maximum repetitions in minimum time wins the challenge. Unlike other workouts, Crossfit comes with a variety of high-intensity functional movements. So to win a challenge, remember to shop for the best crossfit shoes. Why? Because your normal gym shoes might slow you down here!
TRX Training
TRX has been the most wanted fitness equipment for last few years. It is a product that should not be missing in an equipment of every coach or fitness center.
People have adopted the TRX Suspension Training and group courses are very successful in many countries around the world.
You can exercise whole body, perform exercises improving flexibility, strength or explosiveness. You can even perform exercises like push-ups, pull-ups, TRX squats and thrusts.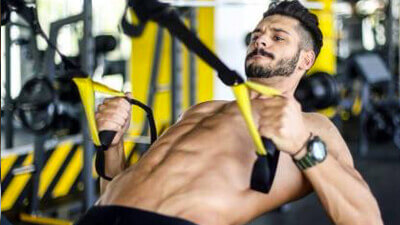 TRX Suspension Training is the most sought-after fitness equipment of the past years. Why is it so popular and does it really work?
Yoga
The oldest and successful exercise is Yoga. It is more than just a workout. Yoga is a principle which will help you establish a harmony between your mind and body.
The various Asanas and breathing techniques can help you transform yourself.
Yoga ensures both physical as well as mental well-being. In fact, it is one of the most successful treatments for depression, anxiety, and stress.
Zumba
Zumba is the ultimate dance
fitness workout
. A variation of the classic Jazzercise, Zumba involves dance movements combined with fitness exercises.
The music and the high-vibe atmosphere make it an exceptionally successful workout.
Zumba is a mood boosting workout which can also increase your confidence level. It is a full body workout which will get you hooked on exercising.
Aerobics
Aerobics and Zumba are often confused
, but in the former, the focus is mainly on stretching and strength training.
You can improve your flexibility, muscle strength, and cardio vascular fitness through Aerobics.

Aquarobics or Aqua aerobics is an interesting type of aerobics where you will be exercising in a pool. It can help people who are overweight, people who are not used to exercising, also pregnant women or if you want to get your shape back after giving birth.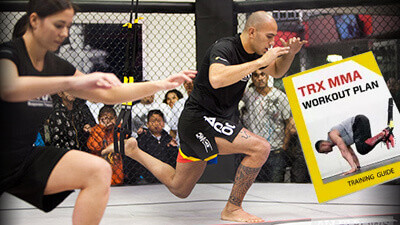 Strength, balance and CORE stability are important components for any fighter. Download a TRX MMA Workout Plan in PDF and start your own training today!
Kickboxing
Kickboxing is an extraordinary cardio workout. You can increase your strength, confidence, and coordination with kickboxing. In group kickboxing sessions you can focus on cardio conditioning, self-defense, and martial arts.
So if you are hanging on a budget but are still looking forward to getting fit, group fitness training sessions are the best pick. You get a chance to make a lot of friends in group workout sessions.
This helps you improve you mental well-being along with your physical fitness. You motivate each other and also get into shape in lesser time!