The post is developed in partnership with BetterHelp.
It's easy to get caught up in the day-to-day business of work, raising children, and maintaining a home. We want the best for our families, but it can be tough to prioritize mental and physical health. To build an active, healthy family requires dedicating time for movement and play.
It may seem like a chore at first, but the evidence doesn't lie: kids and adults alike who are physically active will live longer on average, with a decreased risk of many diseases and health conditions.
What's more, instilling the value of physical activity in your children at a young age will set them up for a healthier adulthood, and improve their brain health, heart health, and mental health. It's so important to foster their love of movement, and equally as important to lead by example. Adults benefit just as much from exercise and play!
Read on for some simple tips and fun ideas to create a healthier, more active family.
Tips For Healthy Families and Children
Below are a few tips you can use to shift towards a healthier life for you and your children. By incorporating some general changes, your family can thrive!
Schedule family time during the week
Perhaps one of the biggest barriers to creating an active family is that parents are busy! We get caught up in the daily grind of to-do's and forget to slow down and carve out time for play.
The key is to schedule active family time each week to connect with your kids and help them get moving. It may feel silly at first, but for busy moms and dads who tend to see their schedules fill up fast, it's very pragmatic to schedule a set time.
Dedicated family time isn't just important for physical health, but mental health as well. Forging deeper connections and intimate conversations within the family will help transform your relationships. And mentally healthy parents make for mentally healthy children.
If you need support while raising children,  BetterHelp has some really great articles and advice
on parenting and family issues, which can be a great start to some positive changes.
There's nothing necessarily wrong with McDonald's chicken nuggets and ice cream sometimes as a treat! But on the whole, it's crucial to encourage your kids to enjoy fruits and veggies as early on as possible.
Make sure they're getting plenty of fluids and eating at least 2 cups of fruits and 2 cups of vegetables a day. If possible, eating together as a family promotes connection. Try to get them interested in the food they eat too – allow them to pick one meal a week to help you cook!
Be selective about what toys they play with
This is an easy one to overlook, but just paying attention to what toys you offer your children can be the difference between a lethargic child and an active, playful child. Screen time is fine in moderation, but should be limited. Try to purchase toys that promote physical movement, like plastic tricycles and cars they can move around in, small playhouses, or a t-ball set.
Encourage them to select one new sport or hobby a year
While it might actually be counterintuitive to sign your child up for too many sports and activities at once (burnout, difficulty balancing a social life and academics), try encouraging them to explore a new hobby. Let them sign up to try a new sport or physical activity of their choice. It doesn't have to be an extreme, high-intensity sport, just something that will promote their physical health and well-being!
Pick a go-to family park, lake, beach, or trail
Ever heard of decision fatigue? When we wake up in the morning, our ability to make choices is at its max; the tank is full. As the day goes on and we make more and more decisions, the tank starts running low, and our brains literally get fatigued with options. Eventually, we hit a wall where we simply don't have the energy to decide with clarity.
This isn't a huge issue when the decisions are small, but if you really need to shell out the energy to do something important, it can be a real problem. The key is to reduce the number of decisions we have to make every single day to avoid that fatigue.
Picking a go-to place to play, have fun, and be active with your children can be immensely helpful in avoiding that decision fatigue. Instead of trying to find a new park or lake every day to keep your kids entertained, have a home base that you and your kids can always go back to when life gets crazy.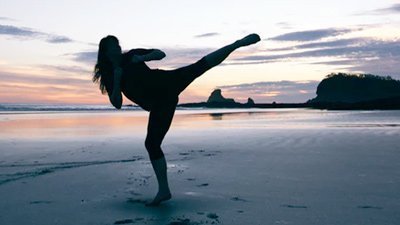 All of our five steps are easy to follow and will boost your health – It is about simple things that don't need a lot of effort, but just a small amount of willpower, commitment and dedication.
20 Fun Ideas for a More Active Family
Are you ready to get your kids moving and having fun? Physical activity doesn't have to be boring, and your kids don't have to see it as a chore. Disguise it as a game or adventure, and they'll be begging you to do it every weekend! Get inspired by this list of fun ideas to create an active, healthy family.
Play a treasure hunt game
Have your kids hunt for buried treasure around the house! This game may require some setup, but it's incredibly fun. It will require hiding a gift or treat somewhere in the house, and creating a set of clues that guides them to the treasure. There are treasure hunt games you can purchase if you don't have time to make one.
Race each other to the finish line
Hitting the track field or even your yard for a friendly race always gets kids in the zone. Race them to the finish line, and maybe consider letting them win to avoid those dreaded "sore-loser" tantrums.
Play freeze tag
Who didn't love a fun game of freeze-tag on the playground growing up? Join the fun with your children and chase them through the grass. Tag – you're it!
Play 'Hot and Cold'
Not so different from the treasure hunt game, albeit much easier to set up, 'Hot and Cold' is a really fun game for kids. The premise is to hide an object somewhere in the room, and your kids will move around the room slowly, looking for the object. You'll tell them if they're getting "hotter" as they get closer to the object, or "colder" as they move further away. It's like being a human metal detector!
Have a family car wash
For some reason, kids love cleaning cars. Grab a bucket and fill it with some soapy water, a hose, a couple car sponges, and some clothes you don't mind getting soaked. Then get started with cleaning the family car! This can be really fun on a hot summer day. Beware: children with water hoses make for high-pressure showers.
Let your kids pick 3 chores to do
Kids don't always love to do chores. Okay, let's face it: they usually hate chores. But if you disguise the tasks as something enjoyable that they can choose themselves, they'll be less likely to roll their eyes. Depending on how young they are, you can help them organize their toys, vacuum a carpet, or wash the windows.
Plant flowers or a small garden
Planting flowers or a garden has a myriad of benefits for your family, not just getting physically active. Kids will learn about how food or flowers grow, and practice tending to a living thing. Then you can all reap the benefits of your garden, whether that's fresh flowers or vegetables to eat.
Have a dance party in the living room
Okay, so this may not work for teenagers. But if your kids are young enough, chances are they like dancing around and acting silly. So clear some space in the living room, put on some upbeat music, and get movin' and groovin'!
Challenge your family to flag-football
Do you have multiple children? A bigger family makes for perfect team sport games. Let your kids pick the teams (you can guarantee that the lineup will be loaded), and make your way out to a local field for a game of flag-football.
Learn how to juggle together
Attempting to juggle somehow always leads to giggling hysterics. It's much harder than it looks! Grab two tennis balls and try to learn how to juggle those together. If you've mastered that, move on to three tennis balls.
Try Double Dutch jump roping
Double Dutch jump roping is a bit more advanced, but it's incredibly satisfying (and a great workout!) once you nail it. It requires two jump ropes swinging in opposite directions. The goal is to jump into the middle and be able to hop up and down without tripping on the ropes as they move around you. You'll need at least three people for this one.
Have them organize their room and select a couple toys to donate
A bit of spring cleaning and organizing can get your kids moving, helping, and clearing out some of their clutter. Also, many children also love the idea of helping someone else. So if you let them select two toys to donate for another little girl or boy to enjoy, they'll probably feel invested in the project.
Play with water balloons or water guns
Nothing's more epic than a water fight under the summer sun! Make a whole event out of it. Get small water guns, or fill up water balloons together, then run around trying to nab each other with that good old H2O.
Play frisbee or catch outside
Playing catch is one of the most basic activities you can do with your children, but it's a classic for a reason. This activity doesn't require a lot of equipment or money – just a tennis ball, a frisbee, a baseball and mitts, or a football. And enough space, so your favorite lamp isn't getting knocked over!
Teach them how to ride a bike
Teaching your kids how to ride a bike is one of the most worthwhile activities you can invest in with them. Why? Because bike riding is versatile, universal, and can be done as a family anywhere and everywhere! Once you can ride bikes together, you can hit the local rail trail, ride down to the local shop they like, or go biking while on vacation.
Run around at the beach and build sandcastles
If you live near a beach, take advantage of it every once in a while! In general, kids love to play in the sand and be in the water. It allows them to get plenty of Vitamin D, physical exercise, and beautiful family memories they'll keep for years.
Go for short jogs together
Aerobic exercise is one of the best forms of movement for your cardiovascular and brain health. Encouraging your kids to go for a pleasant jog with you will offer them something fun, while also helping promote their heart health in amazing ways. But you don't have to tell them that last part!
Go sledding in the winter
Do you live in a region that gets snow in the wintertime? Why not take your kids out to a nearby hill for some fun sledding? Buying plastic sleds is very affordable, and kids seem to be able to play for hours in the snow.
Play tug-of-war
Tug-of-war can be played with just you and your kid, or it can be a family team challenge. It's a great upper body workout too! There are ropes made specially for tug-of-war games for your safety.
Go swimming on a warm day
Swimming is not only fun, but it's an excellent aerobic exercise for you and your family. There are so many options for where to splash around in the water. You can head for the nearest beach or lake, find a public swimming pool near you, or hit the YMCA pool during the colder months.