Are you in a tensed state of mind for the overweight of your body? Don't worry! As a problem exists, its solution exists too. Following some fitness routines consistently, you can overcome the overweight issue of your body.
Many bulky individuals regained a slim, lean sturdy figure losing extra weight off their bodies. For this, they had fitted their lifestyles with some fitness regimens and executed accordingly.
In this article, let's talk about 5 fun sports which can help you get rid of overweight and make you happy again.
#1 – Cycling
Among many sports activities, cycling is the most suitable one for your body. It suits your body easily, and you can make time for it. To make you entirely fit, you need to take care of your heart first. For keeping your heart healthy, a 30 minutes cardio exercise every day can prove essential.
Thus, many consider cycling as the best among all cardio workouts. Your bicycle can play a vital role in your initiative of losing the extra weight of your body.
When you kick-push the pedals of your bicycle forward, your body leans forward, and the stomach gets a pressure. Through repeated stress, your stomach performs its metabolic function accurately.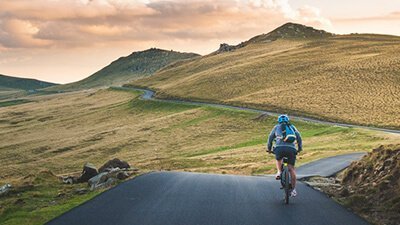 Why is cycling such a good form of exercise? There are lots of scientific reasons why cycling is good for your body and your mental health. We are going to take a look at some of the best health benefits of regular cycling.
Cycling regularly, the metabolic rate increases than the base metabolic rate. As a result, your digestion power increases, and bowel system works properly. So, nothing gets deposited in it.
Due to the exertion put onto the pedal and handlebars, the fat deposited in the skin of your stomach and other areas melts and comes out as sweat. You lose weight gradually. As a result, your stomach becomes flatter.
Through cycling, the calves and thighs of your body get a heavy workout that causes them to lose the fat deposited inside.
Thus cycling helps you to burn 508 calories of your body per hour.
It is a healthy way that causes a rhythmic movement among all the parts of your body and helps you lose much of your unexpected weight.
For commuting a short distance, you can use your bicycle. As per a study, a daily 30 minutes commuting with a cycle instead of a car, can help an average person to lose 1 kg weight. If it is more than 30 minutes, it helps an average person to lose 7 kg of weight.
You can take your kids with your cycling workout. It will give you the opportunity to share quality time with your kids and make pleasure out of it.
#2 – Swimming
Swimming is a low-impact sport that you can easily fit with. It can give you high result in your initiative to lose extra weight of your body.
To create a gear of swimming, you need to manage the access to a swimming pool with some bucks. Other few items like a swimsuit, a pair of goggles you have to arrange also.
Breaststroke is the most effective one in burning calories, among all the categories of swimming. Other categories like freestyle and butterfly also burn calories, but not as much as breaststroke does.
When you swim, various aerobic exercises occur; those cause the whole body to work. Swimming acts as a powerhouse to the cardiovascular system of your body.
Swimming helps you build up your bone mass. It also reduces inflammation and lowers the stress and depression. Consequently, your confidence boosts up.
Swimming takes care of your heart as well as the whole body. An active 30 minutes swimming can burn 458 calories of your body.
#3 – Playing Basketball
Basketball is a significant team activity. Every physical team activity provides you with the opportunity to take away some physical benefits as well as some mental benefits.
Through participating in a basketball game, you can burn the fat in your body and strengthen up your cardiovascular system. At the same time, you get a trigger to build up a team spirit to face the opponent players and snatch away the win.
It can increase your stamina and fortitude as well. You can be a member of your local basketball team or join a group in your city with an intention to lose the extra weight of your body.
A 30 active minutes burn 345 calories of your body.
The other influential benefits you can gain from basketball are:
boosting the immune system
strengthening bones
boosting confidence
#4 – Rowing
Rowing is another fun activity that can help you lose the over weight of your body. This outdoor activity gives you a whole body workout and burns lot of your calories. The more vigorously you can run a rowing session, the more amounts of calories you can burn from your body.
In addition to burning your calorie, you can gain other benefits from rowing like strengthening the cardiovascular system, reducing stress and depression, boosting up mental strength and endurance and socialization.
Through 1 hour active rowing you can burn 810 calories off your body.
#5 – Cross-country Hiking
Cross-country hiking is a rigorous outdoor physical activity that works very fast to burn calories of your body. It is an effective way to lose excess weight of your body. It is a bit challenging and hard. However, if you can go out for the adventure of a cross-country hiking in a group, you can make a lot of fun and enjoy it.
It is as tiring as rewarding to your health. It burns the calories as well as strengthens the larger muscles of your body. With this workout, you can recharge yourself with much fun and enthusiasm. After such an exercise, you will feel re-energized and cheerful. As a result, you can start another planned work with renewed zeal and spirit.
The number of calories you burn depends on the physical demands on various terrains you choose to move on. It depends on the duration and the intensity of the workout as well.
While hiking, you need to adjust the speed based on the terrains you want to trek along. You need to lower the speed when hiking downhill.
Thus you can maintain a balance and stability of your body and prevent you from any injury or an accident.
How many calories do you burn hiking?
A slope terrain with spiral trails causes you to use more calories than a flat one. A statistics found on the internet says that a 150-pound individual can burn 240 calories with a running of 2 miles per hour on flat terrain. Rugged terrain with rocks, rubble, mud or water causes you use more energy than a dry and flat one.
Cross-country hiking with additional loads demands more calories than without any added load. Carrying a backpack, a water-bottle and a sleeping bag will cause you to burn more calories than with no added load. Taking a backpack, you can burn 75 more calories in one-hour hiking.
How many calories do you burn hiking up a mountain?
To get yourself prepared for the workout of cross-country hiking, you have to buy necessary materials. A suitable boot is one of the essentials. For your convenience, you may check these 7 Best Wildland Firefighting Boots, and select the pair that most fits you.
In conclusion, I think, following the above fun sports workouts you can make yourself a lean and mean fighting machine. Then, you can move effortlessly, work comfortably and enjoy your life like it was before.
Nonetheless, you must have strong determination and iron-will to execute the workouts. Other than that, best of luck!
About The Author
Sophie Elise is a passionate cyclist, author, and blogger. She is very passionate about writing on different types of women's bikes, accessories, health, fitness and more. She regularly writes on sportsly.Net