TRX Tactical Gym is the most complete, rugged and advanced workout system ever.
Includes the new ultra-enhanced TRX FORCE Super App that's loaded with critical updates and added features.
Invented by Navy SEALS for special training of military units. Optimized for functional training in any environment, whether extreme outdoors or indoors. TRX FORCE Kit contains the ultra-enhanced digital 12-week Tactical Conditioning Program.
Construction, materials and design are identical with TRX PRO Kit.
Universal use of TRX Tactical Gym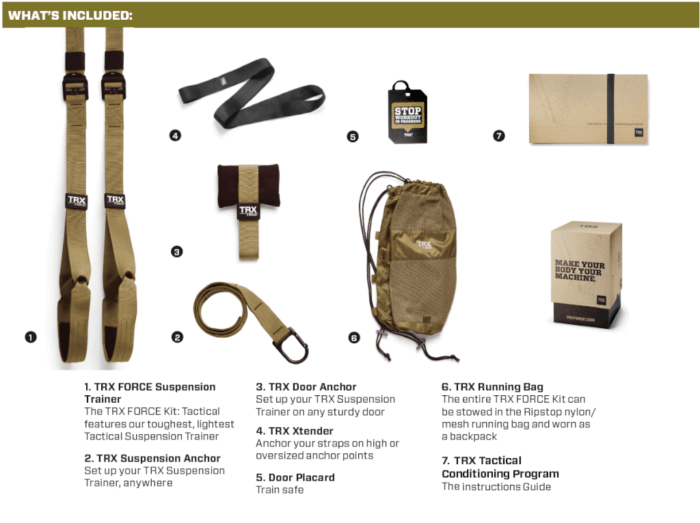 TRX FORCE Kit: Tactical is not used by the military solely, but also by professional MMA fighters.
Force training is absolutely critical for effective training in martial arts.
TRX FORCE Kit: Tactical helps you train not only the strength of individual muscles but also the strength of all movements you need when fighting.
Such movements always challenge whole muscle groups all the way from the back, abdomen, to your arms; not only one isolated biceps. Functional strength that can be used in a fight is mainly centered in abdomen, back and legs.
TRX Tactical Gym provides functional training in any extreme condition and it can be attached to any sturdy anchor point such as a tree, weight rack or anything that comes handy outdoors.
Of course, you can train indoors where you can turn any standard door into a training station with the so-called "Door Anchor".
Colour pattern
The color pattern of the Suspension Trainer is slightly different to distinguish from the other lines.
Khaki black
TRX Tactical Gym: What's included
TRX Tactical Suspension Trainer
12-Week TRX FORCE Program
Military Fitness Guide
Exercise Library
Mesh Carrying Bag
TRX Door Anchor
"Workout in Progress" Safety Placard
TRX X-tender
TRX Suspension Anchor
TRX FORCE Super App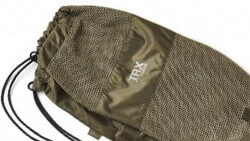 TRX Running Bag – the entired FORCE Kit can be stowed in the Ripstop Nylon/mesh running bag and worn as a backpack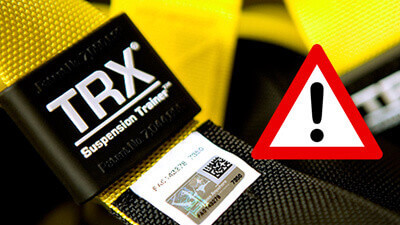 TRX Fake vs. TRX Real: Simple instructions that will help you distinguish a safe TRX® ORIGINAL product from its counterfeit.
TRX FORCE 12 week program
If you purchase TRX FORCE Kit: Tactical, you will automatically receive a complex 12-week Tactical Conditioning Program which includes intensive training and military drill exercise and is now accessible anywhere on your smartphone.
TRX FORCE Super App
TRX FORCE Super App brings programming to your Smartphone. The complete 12-week Tactical Conditioning program now in a Super App for the iPhone and Android.
Includes a complete exercise library with 3 progressions of TRX Suspension Training movements for over 70 TRX Suspension Training exercises.
A reference section with set-up and use, and tips and tricks will ensure you get the most out of the program
Now, for the first time ever, the TRX FORCE Super App is available for civilian purchase
Available for purchase in the Apple App Store and trxtraining.com
No streaming required
The TRX Tactical Training Program at the Super App's core provides a robust training solution for anyone at any fitness level.
Download the TRX FORCE Super App
Download the Free Limited version from the links below. All in a world class download so no streaming is required — it goes wherever you go.
Introducing TRX Tactical Gym