HIIT training is linked to the basic technique alternating periods of time containing high-intensive exercising and short periods of the rest for a certain number of reps.
These short intense intervals of cardio or strength workout with kettlebells, weights, dumbbells, Rip Trainer, TRX or other tools deliver increasing of fitness and fat burning during shorter period of time than many other workout methods.
Utilization of HIIT training
HIIT Workout technique can be applied either as a separate exercise plan in case that you are in a hurry, or as an intense complement to your existing workout plan.
HIIT training can literally have hundreds of forms. One of the favourite is Tabata training.
Depending on your objectives, combine exercises, tools and time intervals to obtain the optimal result.
For example:
20 seconds of intensive workout and 10 seconds of rest
whole process shall be repeated for 4 minutes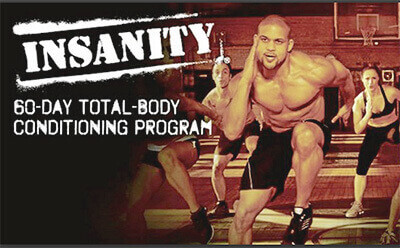 Insanity is the hardest 60 day workout ever put on DVD. This workout is an upside down interval training using maximal heart beat frequency. Get ready, because this will be insane!
Why would you integrate TRX into your HIIT?
You don't need to experience long and in the course of time boring exercising on the equipment and machines.
During the HIIT you exercise
strength
explosiveness
you exercise aerobically and anaerobically
Precisely because of TRX and its variability you can mix rich cocktail of HIIT training plans. You can start slowly and gradually add momentum and raise your aims.
TRX® VIDEO: TRX HIIT training v1
TRX® VIDEO: TRX HIIT training v2
20 seconds of intensive workout
10 seconds of rest
Total: 4 TRX exercises
Repeat the entire process for 2 – 4 times
Assemble your own TRX HIIT training!
Now you know what TRX HIIT training is. Implementation of this technique into your training plans improves your performance and condition and it is the best way to lose weight.
Don´t you know which TRX exercises fit into your HIIT training in order to reach the maximum efficiency?
Get inspired by this video:
In TRX suspension workout there are represented countless fitness techniques, which are focused on core muscles (CORE).
Strong CORE is the basis of all effective and efficient movements.
The most popular TRX Training Gear
You don't need a gym to enjoy a total fitness program. TRX suspension trainer provides everything you need to workout anytime you want, anywhere you want.
TRX training is a workout you'll never outgrow!