Proteins are an essential part of our daily diet. They are necessary for building muscle fibres and the general health of our organism. There are a lot of food groups that contain protein, but not all of them are utilized as much as they should be.
Most people just go the familiar route and use meat as their main source of protein. Chicken is one of the most popular choices when it comes to having a protein-rich meal, but what if you want to take a break from chicken dinners?
Perhaps you're bored with it, or you don't tolerate chicken all that well. Luckily, there's no shortage of recipes that have nothing to do with chicken. If you want to satisfy your daily recommended dose of protein, you should take a look at some of these alternatives.
1. One Pan Baked Teriyaki Salmon with veggies
If you like a little convenience with your delicious, chicken-free meal, this might be the recipe for you. Quick and easy one-pan meals are always attractive when you're in a rush, but you don't have to store this one away in your fridge. It's so delicious that you might not be able to wait an extra day.
You have everything you need for a nice meal in this dish. The vegetable choice is up to you, but most people like to stuff it full of carrots and broccoli. They give you a tasteful punch while also being quite filling.
The salmon is without a doubt the highlight of the meal. Not only is it an absolutely delicious marvel of the sea, it's also chock-full of protein. For something that feels like such a light meal, you get a healthy dose of nutrients from every single bite. It's hard to compete with a salmon dish like this.
Most types of salmon have between 21 and 22 grams of protein per 3-ounce grilled fillet.
2. Red Lentil Dal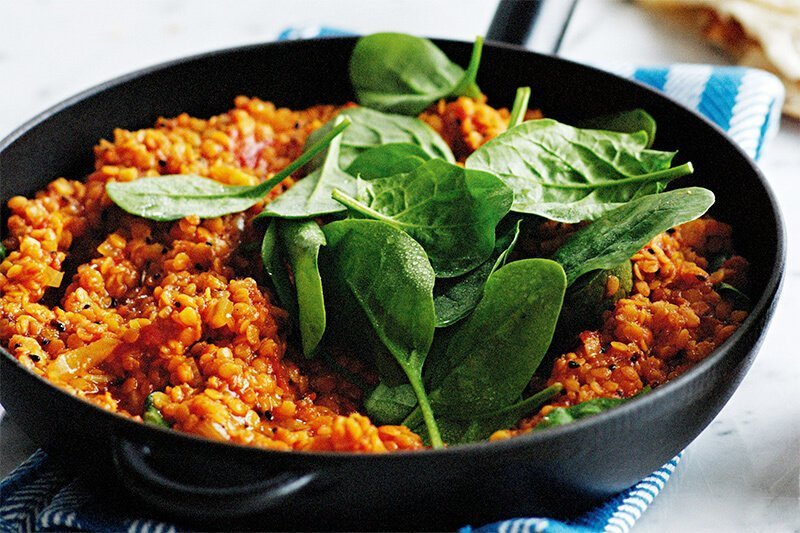 If there was a competition for the healthiest protein-rich food, lentils would take gold every single year. It's one of those superfoods that very few people eat due to the fact that they aren't sure how to prepare it. Luckily, lentils have more than their fair share of delicious recipes once you get to know them.
Red lentils are especially rich in protein and they don't take all that long to cook compared to their green and yellow counterparts. A ½ cup serving of cooked lentils provides about 12 grams of protein.
Dal is an Indian word that could be described as dried or split pulse made in a stew form. Lentils are ideal for this because they can be mixed with a bunch of different vegetables. They are both inexpensive and filled with nutrients.
The Lentil dal is used as a base, what you add to it afterwards is up to you. There isn't much to it except preparing the dal. You can spice up some cauliflowers, mix in some cooked rice, and you have a meal rich in protein that will make you feel like you're on top of the world.
3. Shrimp and fried rice
No list of delicious food would be complete without shrimp. It's another scrumptious marvel of the sea. It has its benefits and drawbacks. Is it the healthiest food option you can find? Not exactly, but it's not unhealthy either. When combined with fried rice you end up with a very protein-rich meal.
For starters, make sure your shrimp is as fresh as can be. The shelf life for fresh shrimp is only four days, so you better get to cooking right away. Brown rice is always the recommended choice for this type of recipe. A cup and a half would be more than enough. Add some reduced sodium soy sauce to spice it up without increasing your blood pressure. All you need for the shrimp is a skillet and some olive oil and you're good to go.
When it comes to the vegetables, green beans and carrots rule supreme. Some peas aren't out of the question, either. Stir them in the skillet along with the shrimp until they are tender. Within twenty minutes you will have a great meal ready on your table.
The protein content of shrimp varies with the method of preparation. A 3-ounce serving of steamed shrimp has 19 grams of protein.
4. Avocado Couscous Grapefruit Salad
Why limit yourself to only one a couple of food groups? Our taste buds exist to be toyed with. You would be hard-pressed to find something as colorful and interesting as an Avocado Couscous Grapefruit salad.
The winter months might not give us much to work with, but it has all of these delicious ingredients to make up for it. You have all of your bases covered with this meal. The grapefruit has all the vitamins you could ever want from a fruit. Couscous will help fill you up while remaining tasty. Last but not least, you have the avocado which packs a strong punch full of protein and fat.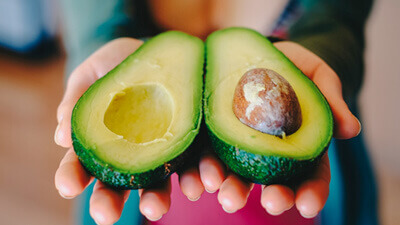 Avocados actually don't have that much protein in them. But they are one of the best sources of natural healthy fat, contain a lot of important vitamins and minerals, can help naturally manage your cholesterol levels and are good for a weight loss.
You'll need about a cup of whole wheat couscous alongside some low-sodium chicken broth.
About two avocados should be enough to satisfy your daily protein and healthy fat intake. Large red ruby grapefruits will do the trick just fine.
Stir the couscous in a broth boil for about five minutes. Whisk together some lime juice alongside a bit of honey and olive oil and you should be good for the dressing. Take a large bowl and fill it with the couscous and avocados. Add some feta, mint, and cilantro to add some more taste to the mix. It might just be a salad, but it's going to prove quite potent.
5. Lean & Green Tofu Stir-Fry
If fast food meant anything other than unhealthy things you get on a night out, this would be the new definition. This brilliant stir fry recipe can be cooked up in about ten minutes tops. Why not enjoy the luxury of a quick and delicious meal when you have the opportunity?
Stir fry's are a great way to combine all your favorite vegetables with your favorite kind of meat in one meal. Better yet, replace the meat with tofu and you'll have something even healthier.
1 portion = 18 g of protein
Start with some chopped onions and button mushrooms. The smell of these alone will make you hungry, but you won't have to wait long. Eight ounces of tofu should do the trick. There's protein galore in this recipe, but there's no reason you can't add more. Add three teaspoons of nutritional yeast and some baby spinach for your green colors. You won't need much else since the tofu already packs a punch.
6. Vegan Spicy Black Bean Soup
There are several key elements to a good vegan soup. It should only contain moderate levels of sodium. It should be reasonably priced, while also containing a fair amount of nutrients and proteins. It also has to have ingredients that are available at any grocery store.
The spicy black bean soup satisfies every one of these criteria, making it an ideal fit for a delicious vegan meal.
The fibre to protein ratio in black beans is one to one. Per serving, you're getting at least 15 grams of both. This makes it more than good enough for a protein-rich diet.
As is tradition, slice up some garlic and green onion in a pot over medium heat. Olive oil is a must. You can even add a dash of bell pepper to the mix. Rinse and drain the black beans and add them too. It's even recommended that you squash a few of them to give the soup a bit of cream.
Add the cilantro, vegetable broth, cumin, and some red pepper flakes. That should be more than enough for the taste aspect. You won't be disappointed with the soup.
7. Grilled Salmon With Avocado Bruschetta
Salmon doesn't just go well with teriyaki and veggies, it's also magnificent with one of our favorite kinds of healthy fruit. In this recipe, you get the fat and protein punch from the avocado while also enjoying even more protein from the salmon. You've heard of avocadoes on toast, but replacing it with bruschetta adds a whole other kind of deliciousness.
Keep the skin on the salmon and lay it skin side down on the grill. Remember to oil the grates to prevent the fish from sticking to them. No turning is necessary. It should take about ten minutes to finish. If you don't like salmon, swordfish would be a great alternative. Make the bruschetta as regular, but add avocado spread right on top of it.
The amount of protein you get from this is astonishing. It won't feel like such a heavy meal and yet you'll still be full.
8. Chickpea Tikka Masala
We all crave Indian food every once in a while, but is it really worth waiting half an hour to get delivery? The answer is yes, but there's an even better solution to this craving problem- make the food yourself!
It's usually made with chicken and gravy, but culinary experts have cooked this delicious recipe up with some chickpeas instead. It's a wonderful alternative that is so delicious that you will forget about the original recipe even existing.
This recipe is rich, spicy, and hearty enough to make you want to make it every single day. Sauté every kind of onion you can find alongside some ginger and garlic. Add the chickpeas and diced tomatoes and bring it all to a boil. The onions and chickpeas will absorb the tomato juice and they will be a tiny bit sweeter. If you have any coconut milk, now would be the time to add some.
9. Acai Protein Bowl
Acai bowls are nothing new to any cooks who are also health enthusiasts. You might have tried some at a juice shop, but those are artificially sweetened to the point that you don't get the same kind of experience.
They are even better when you make them on your own. Acai is like a cross between a blueberry and a kind of grape, while also being even more nutritious than either. The organic acai berries contain little to no sugar within them, which makes them an ideal healthy food.
What makes acai berries so good is that they go well with lots of different fruit in any kind of bowl recipe.
Usually, this recipe contains a couple of grams of natural protein powder alongside strawberries and blueberries.
The only other ingredient you need is almond milk. Combine all of these in a bowl and you can enjoy the wonderful flavors that are featured. It's like the greatest bowl of cereal you have ever tried.
10. Greek Couscous Salad
You can always count on Greek cuisine to give you something rich in protein. Expect to use a lot of olive oil here! This delicious and healthy couscous salad has just about everything you might want from a meal. The main source of protein in this recipe is the chickpeas.
First, you should prepare the couscous. The vegetables that go with it should be chopped up coarsely. Include things like green bell peppers, tomatoes, and large red onions. These are traditionally used in this Greek recipe, but you can swap them out for something else if you prefer.
Before adding the chickpeas, you can opt to roast them first for a nice crispy texture.
Finish it off with some cracked salt and pepper. A wedge of lemon would give it a delicious zest too.
What kind of Greek recipe would be finished without a little bit of feta cheese? Add some right on top of the salad and start mixing. Don't go easy on the olive oil, either. You want something that will bring the whole salad together.
Conclusion
Finding the perfect meal that will keep you full throughout the day is kind of a difficult task if you are new to cooking. It's especially tricky if you are also avoiding a specific ingredient that is present in just about every kind of cuisine known to man.
Still, if you have a little creativity and know-how, you can easily get by without including chicken in your meals. You'll find that these recipes are just as tasty, if not tastier, than the meat-filled recipes you might be used to.